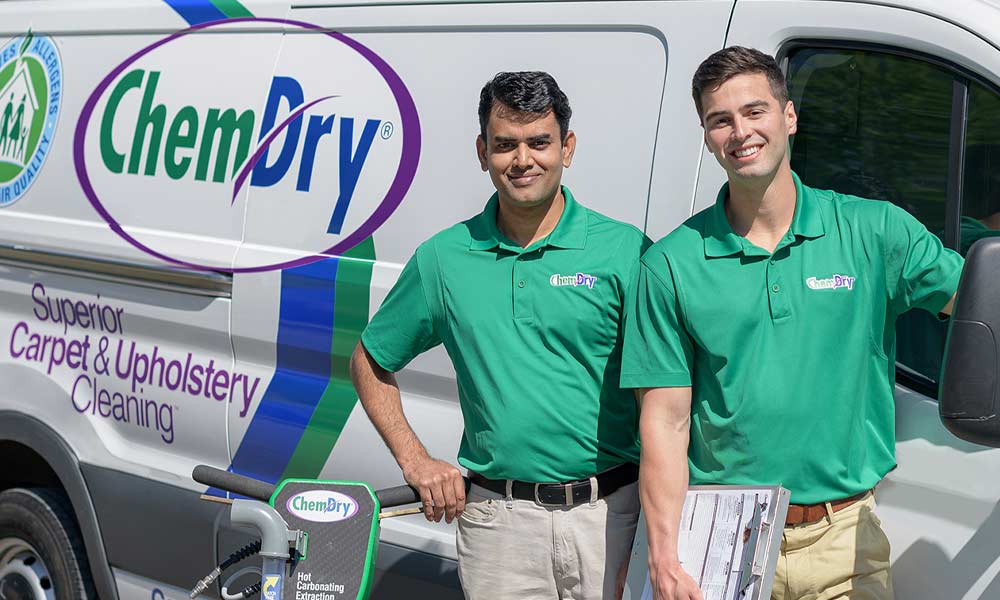 Dana Point Carpet Cleaning
Call Us Today For your FREE Estimate! 
(714)671-9466
Carpet Cleaners in Dana Point for Homes and Businesses
At the Head of the Industry – All Points Chem-Dry has consistently provided superior cleaning services for homes and businesses since 1980. In the decades since we started, Chem-Dry has become a leader in the cleaning field. How have we made this happen? By working quickly using state of the art technology and friendly service. Cleaning services include:
Repairing and Cleaning Carpets
Cleaning Draperies and Upholstery
Cleaning Grout and Tile
Sealing Grout and Tile
Removing Pet Odors
Cleaning and Restoring Leather
Stain Removal

Stone Floor Cleaning

Sealing Stone Flooring
Water Restoration

See all our current Dana Point carpet cleaning

 

special offers

 

and other professional cleaning coupons for Dana Point and surrounding cities we serve, including Glendora, Azusa, Pomona, and Walnut.

"I just wanted to thank you for a job at our home today. Not only do I utilize your services for our home but we are pleased to use your professional services to clean the carpets in our business rental properties as well. I can always count on All Points ChemDry for a quick response and professional service. Thank you." 
Wes and Chris Purkiss
Glendora California
---
---
Superior Cleaning Services - In just a few short hours, Chem-Dry's cleaning system can make any rug look brand new. Hot Carbonating Extraction is available exclusively from Chem-Dry and works by inserting hot carbonating cleaning solution into the carpet. This solution is call "The Natural" and is 100% child friendly and non-toxic. It cleans deep, raising the dirt in the lowest levels of the carpet to the surface of the fibers. That dirt is then detached from the fibers using hot water and is sucked away instantly by the Chem-Dray PowerHead.
Fast Dry in Just Two Hours! – Altogether, the service will be completed in just a few hours, and that includes drying time. We're aware that our Dana Point clients have lots of things to do, and we don't want them to have to spend 48 hours keeping people and animals off of newly cleaned flooring. Drying time for the Chem-Dry process is only 60-120 minutes, which helps reduce the chance of any issue-involving mold and minimizes the chance of kids or adults tracking dirt onto the wet floors. Additionally, this means that you can take your family on a quick outing while it dries and have perfectly dried carpets when you arrive home. Our solutions are child-safe and our workers are family-friendly, so feel free to give us a call for a free estimate.
Things to Do Around Dana Point While You Wait - For over 28 years, AllPoints ChemDry has excelled in providing superior carpet and upholstery cleaning in Dana Point for both homes and commercial buildings. ChemDry professional technicians use the power of Hot Carbonation Extraction for a deep healthy clean that dries in only a few hours so that you don't have to leave while it dries. However, if you do wish to go on an outing while you wait, why not try Westfield Shoppingtown (off the Vincent Avenue exit) or Westfield Eastland (off the Citrus Avenue exit, northbound). Both of these shopping centers have the usual range of department stores, big box retailers, and fast food eateries. There are also adjacent strip malls and restaurants. For those interested in ranch life, the Hurst Ranch (1227 S. Orange Ave.) has some exhibits about the ranch's history, including an up-close and personal look at the ranch itself. There are also two Dana Point parks accessible from the freeway — Cortez Park and Barranca Park. For Cortez Park, exit off Citrus Avenue, head south, and the park is on the right side. For Barranca Park, take the Barranca Avenue exit and head northward past the Westfield Eastland complex after Workman Avenue. By the time you come home, your carpets will be dry and ready for use!
Advantages of Our System - There are a number of significant advantages offered by the Chem-Dry system and used by the carpet cleaning personnel of AllPoints Dana Point. These superior qualities far surpass the regular methods of carpet cleaning employed by other companies and include:
A superior cleaning system
Fast drying carpets – 120 minutes!
Soil resistant carpet fibers
Protectant to prevent stains
Safe, non-toxic solutions
Next-day service
Coupons and specials
Free estimates with professional technicians
And the whole process has been approved by the Carpet and Rug Institute!
We offer a

 

30-Day Customer Satisfaction Guarantee

 

on all work performed, which means if the spots we clean come back, so do we – for

 

FREE!
Contact Us Right Away! - We will give you an estimate that won't cost you a thing. Just give us a call at 626-914-9614 or 909-861-1401. Our trained carpet cleaners in Dana Point will be able to suggest the best course of action for your flooring, and will provide skillful cleaning services at great rates. In some cases, we can have a service man at your front door as early as the following morning. So, if your flooring needs cleaning and your are in the Dana Point area, give us a call or use our handy contact form. We offer service in all of the towns and cities in the area, including Glendora, Azusa, Pomona, and Walnut.
Cash or All Major Credit Cards Accepted

* Limit 1 coupon per customer, per six-month period. Chem Dry coupon must be presented at the time the appointment is scheduled and at the time of service. Cannot be used in conjunction with any other offer. In most cases our standard cleaning will obtain the desired results. However, light or exotic fabrics, heavily soiled areas and unusual stains sometimes require a special treatment at an additional charge to guarantee results for 30 days.
The table below shows only a few of the cities Allpoints Chem Dry carpet cleaners covers with our professional cleaning services. We serve many Southern California cities in Los Angeles County, Orange County, and the Inland Empire, so please call for complete coverage areas.
| | |
| --- | --- |
| Dana Point | Zip Codes |
| Azusa | 91702 |
| Covina | 91722, 91723, 91724 |
| Glendora | 91740, 91741 |
| Pomona | 91765, 91766, 91767, 91768, 91769, 91797, 91799 |
| Walnut | 91788, 91789, 91795 |
| West Covina | 91790, 91791, 91792, 91793 |
Some of our reviews:

BOMAR CHEMDRY

The best carpet cleaners around. Extremely personable yet professional. I use them before major parties and they always make the carpets great. The chemicals they use to not have a toxic smell and keep the carpets wet for too long. I have used other brea carpet cleaners and the rugs were still wet for 3 days!! Use Bomar Chemdry Carpet Cleaning they are great


Review 5/5

-Judith Mraz

(YellowPages.com)

---------------------------------

After calling around for prices, we found that Bomar Chem-Dry was not only reasonably priced, they were professional & flexible. They arrived on-time with no issues & got to work


-Margarett

(Yahoo Local)

---------------------------------

I live in Brea and I hired these guys a few days ago. Excellent work, great price, and they were on time. These guys know carpet cleaning!


-Google User

(google +)

---------------------------------

ALLPOINTS CHEMDRY

Great job with the carpet--excellent service. They were punctual and courteous even going the extra step on some tough to clean areas.


-Catherine R

(Yelp)

---------------------------------

The technician was on-time and had to work hard to get my carpet and wood flooring clean. He did a great job and I will use All Points again next time.


-Lani G

---------------------------------

Bomar Chem-Dry really came through for me with their quick service. I had guests on the way and my dog decided to leave a present for me on the living room rug, so I really needed their help. In less than an hour they had my rug smelling perfect and, thanks to them, I even got complimented on it.


-Christopher Kruz
Need Carpet Cleaning in Dana Point Request a Cleaning Today!
All Points Chem-Dry provides expert carpeting, fabric, and other cleaning services for residences and businesses, and has done so since 1980. Since then, Chem-Dry has become an industry leader. How did we accomplish this? We have done it with a combination of the finest cleaning technology and fast, friendly service.